How To Place a "Lay" Bet
Laying a horse or a football team is quite easy. Laying means you bet against an outcome. So when you lay a horse or a football team you want them to lose.
If you know how to place a lay bet, it's no big deal. Have a look at the following picture: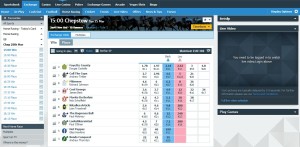 Here you see a standard race overview on betfair. The blue fields are the backing odds (betting a horse to WIN), and the red fields are the laying odds (betting a horse to LOSE). Important for our service are the red fields, please ignore the blue ones. You now have to click into one of the red fields to lay a horse: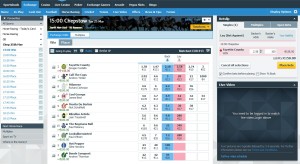 .
.
.
Now you have to type in your desired stake, and click "Place Bets". But beware: The stake in the field "Backer's stake" is the amount you can win. How much you can lose shows the column "Your liability".
That's it. Now you know how to lay a horse.
If you want to bet against a team or horse you should open account with Betfair because usual bookmakers just allow back bets.
So open an account with Betfair now and receive a free bet:
The following two tabs change content below.
I am a passionate sports betting fan and a sportsman. My sports betting experience started in August 2011 and i created this website to share my knowledge with you. My aim is to help you taking your betting activity to the next level to make good money in this exciting business of sports betting.