Semester 1: The basics of sports betting – Start your great betting career
Welcome to the exciting world of sports betting.
Sports betting is a huge business around the whole world. You have the opportunity to watch your favourite sports and place bets on it to get a thrill during the game and create your very own challenge. Getting to know the whole system of betting can be quite difficult and time consuming so we won't waste more time and start with the first semester now. Our first semester shows you the very first steps when it comes to betting and has the following structure:

Category I - Very First Steps
Definition Of The Term 'Sports Betting / Gambling'

Popularity Of Gambling - Why Do People Gamble?

What Is A Bookmaker / Betting Exchange?

Decimal Or Fractional Odds

Types Of Bets

How To Place A Bet

Bonus Offers From Bookmakers
Category II - Betting Psychology
Mindset For Professional Betting / Gambling

What Sports To Bet In

Bet Types To Avoid

Finding Value Bets

Money Management

Avoiding Bookmaker Limitations

Keeping Track Of ALL Bets

Category III - Conclusion
What You Learned In This Semester
This semester is only available for subscribers to our newsletter.
So subscribe now for FREE to get instant access to our first semester and much more.
.
Test your knowledge now in our sports betting quiz: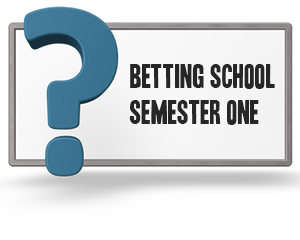 .
.